---
TSUNAMI TWO MONTHS LATER
Two months after the tsunami that hit the north east of Japan, I left Kyoto to join a group of volounteers of Caritas Japan (link).
Purpose of the trip was, mainly, to help local people, in particular those from Shiogama, close to Sendai. But, as usual, I took with me a camera.
Before leaving I wondered whether taking pictures of such a situation, was a good idea or not. For weeks media showed everything was possible to show and, sometimes, more than that; what could I add to that, I was asking myself. But many people I met over there asked me to take and show pictures of what is left after the tsunami.
It is too difficult to explain by words what you feel when you walk on the debris of an entire village, I hope the images can help.
My special thanks go to the fantastic people of Caritas of Shiogama and all the volounteer I had the pleasure to work with.
Dopo due mesi dallo tsunami che ha colpito il nord est del Giappone sono partito da Kyoto per unirmi ad un gruppo di volontari della Caritas Giapponese (link).
Lo scopo principale del viaggio era ovviamente dare una mano alle popolazioni locali, in particolare quelle di Shiogama, vicino a Sendai. Ma, come sempre, ho portato con me una macchina fotografica.
Prima della partenza mi sono chiesto se fosse il caso di riprendere immagini del disastro. Per settimane i media hanno mostrato tutto cio' che c'era da mostrare e a volte anche di piu'; che senso ha aggiungere altre immagini, mi chiedevo. Ma e' stata la gente incontrata sul posto a chiedermi di fotografare e far vedere quanto e' rimasto dopo lo tsunami.
Descrivere a parole quanto si prova camminando sulle macerie di interi villaggi non e' possibile, le immagini spero siano sufficienti.
Voglio ringraziare le splendide persone della Caritas di Shiogama e tutti i volontari con i quali ho avuto il piacere di lavorare.
東日本大震災から二ヶ月後、京都から東北へ出発しました。仙台の近くの塩竈カリタスジャパンの ボランティア団体に入らせて頂きました(link)。
東北に行くことにしたのは、現地の方々を手伝うためにでしたが、いつものようにカメラも持って行きました。
出発の前、巨大な災害を撮影するのは不謹慎だかどうかと思っていて、悩んでいました。震災が起きてから、飽きるほどマスメディアに 災害を見させられました。また同じ 災害の写真を加える意味はあるのでしょうか。けれども、現地の方に東北の状況を知らせるようにお願いされました。
言葉では、完全になくなった村の破片に立っている間何を感じているのを説明は出来ません。写真も足りないかもしれません。
塩竈カリタスジャパン ボランティアベースの方々とボランティア皆様に大変感謝しています。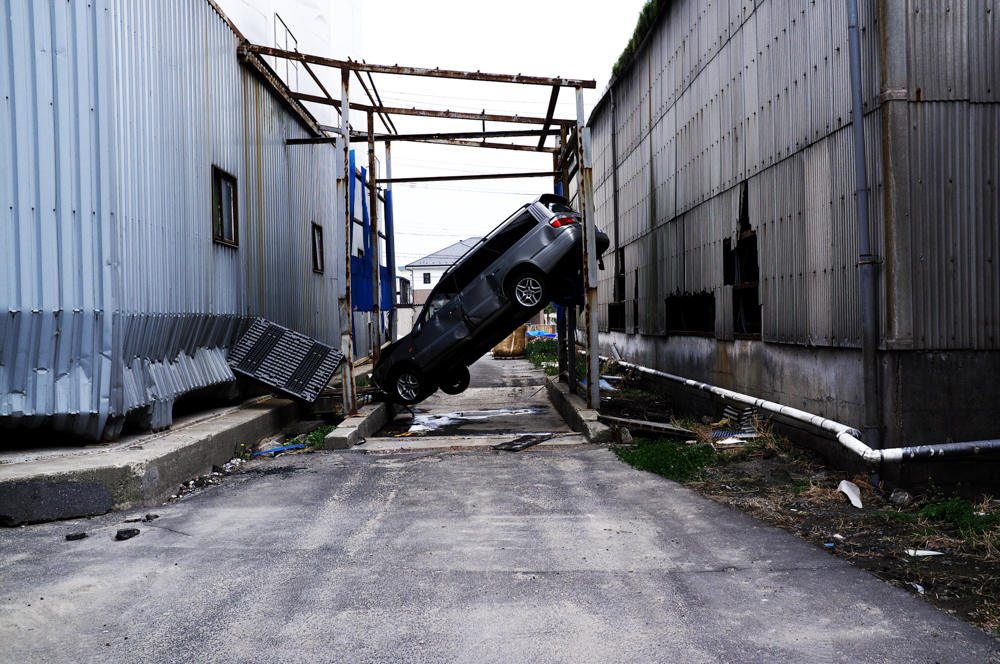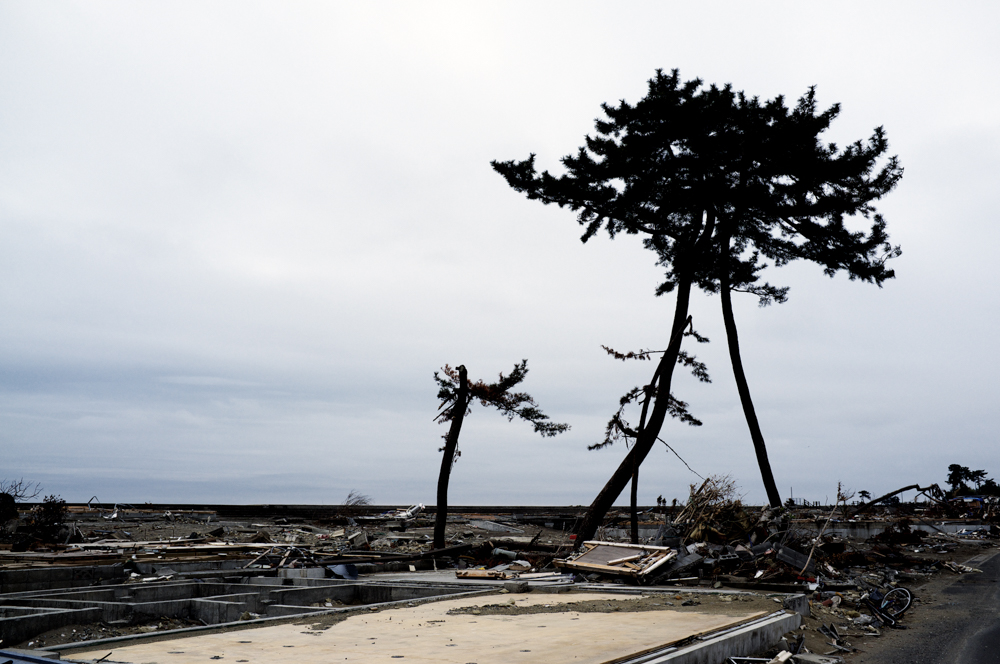 ---
TWO DAYS IN FUKUSHIMA
Since when I have been in Tohoku for the first time, the north east of Japan hit by the tsunami, one year has passed.
This time I head slightly north to the evacuated area of Fukushima. Soma and Minami Soma are two small cities of some ten thousands people.
Shop are almost all closed, "for rent" signs on the closed shutters are a lot. Few people walking or riding a bicycle, just people driving. It is public holyday, but this does not mean that in Japan people are not working. Finally I see two girl on their bicycles; when I take a picture they smile and one whispers "with these hairs I certainly don't look as a model".
I take some pictures of the ghost town and then I decide to move to the forbidden area. It is a chance to ask for some information to the taxy driver, who drives me to the nearest check point: since the day of the tsunami the town has changed, people are less and not only on holydays. Those who lost their houses are living in different places, who has children and can afford it, live the town for fear of radiations.
But he also wants to reassure me: radiation measurement are constantly low, neglectable. According to recent news, inhabitants of some areas now forbidden, will be allowed to return to their houses soon. The main problem is still the lack of water and electricity.
When we are at the check point, the driver waits for me taking some photos of the area. When I am back in the car he says: wouldn't it be interesting to see how is the other side? Yes it would.
Da quando sono stato nel Tohoku per la prima volta, il nord-est del Giappone colpito dallo tsunami, è passato poco piú di un anno. Questa volta la meta è poco piú a nord della zona evacuata di Fukushima. Soma e Minami Soma, due piccole città di poche decine di migliaia di abitanti.
I negozi sono quasi tutti chiusi, i cartelli "affittasi" sulle serrande chiuse sono tanti. Di gente che cammina o in bicicletta non se ne vede, solo persone in automobile. È vero che è una giornata di festa, ma in Giappone non vuol dire che i negozi non siano aperti. Finalmente incontro due ragazze in bicicletta; quando le fotografo mi sorridono ed una bisbiglia "con questi capelli non sembro certo una modella"
Faccio un po' di foto alla città fantasma e poi decido di andare verso la zona proibita. Ne approfitto per chiedere informazioni al tassista che mi guida verso il posto di blocco piú vicino: effettivamente dal giorno dello tsunami la città è cambiata, la gente è poca e non solo nei giorni di festa. Quelli che hanno perso la casa vivono altrove, chi ha bambini appena puo' permetterselo lascia la città per il timore delle radiazioni.
Ci tiene pero' a rassicurarmi: le rilevazioni delle radiazioni danno costantemente valori bassi, trascurabili. Secondo le ultime notizie, presto una prima zona sarà riaperta agli abitanti, aggiunge. Il problema principale è dovuto all'interruzione della rete dell'acqua e dell'elettricità.
Arrivati al posto di blocco il tassista mi attende mentre scatto qualche immagine del luogo. Quando risalgo in macchina mi dice: sarebbe interessante andare a vedere cosa c'è dall'altra parte, vero? Vero!
初めて東北地方に行った時から、もう一年はたっている。
今回の目的地が、福島県の疎開されたエリアから少し北のほうにある相馬市と南相馬市。
閉まっている店も多いし、シャッターに「テナント募集」という看板も多い。
歩行者も自転車も少なくて、車しか通らない。
確かに、「今日は祝日だね」と思ったけど、ちょっと不思議な感じ…
ようやく、自転車に乗っている二人の女の子が出てくる。
彼女たちの写真を撮る瞬間に、一人が「こんな髪の毛で、モデルに見えないなぁ。」と小声で言う。
ゴーストタウンの写真を撮ったら、立ち入り禁止エリアに向かうことにする。
タクシーに乗って、一番近くのチェックポイントへ連れて行ってくれる運転手さんに色々なことを聞くチャンスがきた。確かに、津波の日からこの町は変わってきて、祝日に関係なく、人が少ない。
家を流された人が避難所などに移動し、子供のいる家族は、出来る限り、放射線の心配で町を離れるそうだ。
運転手さんに安心させられる。放射線が低いそうだ。最新のニュースにより、いくつかのエリアに住民が戻れるらしい。けれども、まだ水と電気がない。
チェックポイントに着いたら、早く写真を撮り、車に戻る。運転手さんは「向こうの状況をみたいな」と言う。やっぱり、私も見たい!
Back to Minami Soma I head to the coast. I want to have a look to the sea in which the water that cooled the malfuctioning reactor was discharged.
To get to the sea I cross the strip of land hit by the tsunami. The landscape resembles the moon surface, all the debris have been removed and only the bare ground is left. It is early afternoon, few clouds slightly hide a still high sun. A kind of autosuggestion makes me wonder about some radiation effect.
Tornato a Minami Soma mi incammino verso la costa. Voglio vedere il mare nel quale è stata scaricata l'acqua usata per raffreddare il nocciolo della centrale in avaria.
Per arrivare al mare attraverso la fascia di terra che era stata invasa dallo tsunami. Il paesaggio è quasi lunare, tutti i detriti sono stati rimossi, resta solo il terreno incolto. Sono le prime ore del pomeriggio, un po' di nuvole coprono appena il sole ancora alto; il contrasto tra cielo e terra e tra cielo e mare è molto forte. La suggestione mi fa pensare ad un qualche strano effetto delle radiazioni.
南相馬市に帰って来たら、海岸へ向かう。故障した原子炉を冷ますために使われた水が放出された海を見たい。
海岸に行くには、津波に流された地帯を通る。景色を見たら、月の地表を思い出す。瓦礫が全部片付けられたので、荒れ地しかない。
まだ午後早い、雲は少しだけ灼熱の太陽を隠している。空と土のも、空と海のコントラストが強い。放射線の影響かなと思ってしまい、自己暗示だろうか。
The morning after I have to meet Sato san, a fisherman from Soma. I'd like to know some details about fishing in Fukushima.
He and his father, formerly a fisherman as well, welcome me in their house.
I hear from them that at this time fishing is stopped. Even though the level of radioactive materials in the fish is extremely low, nobody would eat the fish from Fukushima. Fishermen are often going to take some samples close to the nuclear plant area, and the fish is then checked. They show me the analysis documents: very few cases apart, fish taken very close to the nuclear plant, the data are reassuring.
Once I finished my coffee, Sato san takes me to meet his colleagues. I have the chance to meet Matsumoto san and Hamauchi san, the leader of Soma's fishermen association.
We have a chat about the present situation and Matsumoto san, all excited, tells me about the tsunami day. He was on his boat that day, the wave was impressive, as in "The perfect storm", he likes to remark.
With some pride, they show me their boats. When I tell thaem that the boats are "kakkoii" (cool in japanese) they look very happy.
La mattina dopo ho appuntamento con Sato san, un pescatore di Soma. Mi interessa sapere qualcosa di preciso sulla pesca nelle acque di Fukushima.
Sato san mi riceve a casa sua, insieme al padre, anche lui una volta pescatore.
Mi spiegano che la pesca per ora è sospesa. Nessuno mangia il pesce di Fukushima. Questo nonostante il fatto che la presenza di sostanze radioattive sia estremamente bassa. I pescatori vanno spesso a prelevare campioni nelle zone limitrofe alla centrale, per poi analizzare il pescato. Mi mostrano i documenti con i risultati delle analisi: a parte rare eccezioni, pesci presi molto vicino alla centrale, i dati sono molto confortanti.
Finito di bere il caffè, Sato san mi porta a trovare i suoi colleghi. Conosco così Matsumoto san e Hamauchi san, il capo della associazione dei pescatori di Soma.
Discorriamo un po' sulla situazione e Matsumoto san mi racconta, con grande eccitazione, del giorno dello tsunami. Lui si trovava sulla barca quel giorno, l'onda era impressionante, come nel film "Una tempesta perfetta", ci tiene a rimarcare.
Mi mostrano orgogliosi le loro barche. Quando dico loro che sono "kakkoii" (un termine che in italiano tradurremmo "fiche", ma che non ha alcuna accezione volgare in giapponese) sono felicissimi.
次の朝、佐藤さんと会う約束がある。佐藤さんは、相馬に漁師だ。福島県の漁業についての詳しい話を聞きたい。。
お宅で佐藤さんと彼のお父さんに迎えられる。お父さんも元々は漁師だった。
現在、漁業は中止だそう。放射性元素がすくなくても、福島県の魚を食べる人はいない。魚を検査するために、漁師はよく原発の周りの海に出る。検査の結果を見せてくれ、ごく少数のサンプル以外、放射性元素の量はとても低い。
頂いたコーヒーを飲んだら、同士の松本さんと浜内さんに会いに連れて行ってくれる。浜内さんは相馬の偉い漁師らしい。現在の状況について聞かせて頂いたら、少し興奮した松本さんは、津波の日舟に乗っていたという話をしてしまう。「パーフェクトストームのように」と言って強調する。
誇らしく思う自分の漁船を見せてくれる。「かっこいいなぁ」と言ったら、彼らが喜ぶ。
Sato san takes me back to the station; we drive in front of the fish wholesale market. A huge, abandoned building. He asks me if I want to shoot some photos here. The light is too harsh now. I tell him I'll come back in the evening.
So at dusk I am back at the fish market to take some images. I wonder how it used to be slightly more than one year ago, when the fishing boats were returning to the port.
It is almost dinner time. For the last time I go to the same izakaya (typical casual japanese restaurant) I have been to in these days. This time, with my surprise, I find out that I am the guest. There is no way to pay tonight. Here they are so happy that a foreigner came to vist Soma in such hard times. Great people of Tohoku!
Sato san mi riaccompagna verso la stazione; passiamo davanti al mercato all'ingrosso del pesce. Un enorme capannone ora abbandonato. Mi chiede se voglio fare delle foto, ma la luce è troppo forte ora. Gli dico che torno dopo, nel tardo pomeriggio.
E così faccio, verso l'imbrunire torno al mercato e faccio delle foto. Chissà come era affollato poco piú di un anno fa quando i pescherecci tornavano in porto.
È quasi ora di cena, vado per l'ultima volta nella solita izakaya (tipica trattoria giapponese) dove ho mangiato in questi giorni. Questa volta scopro che sono ospite del proprietario. Non c'è modo di pagare, qui sono tutti contenti che di questi tempi uno straniero sia venuto a visitare Soma. Fantastica gente del Tohoku!
そして、駅まで連れて行ってくれる。魚の卸売市場の前を通る。もう何も残っていない巨大な倉庫。佐藤さんに「市場の写真を撮りたくない」と聞かれる。
光がきついから、「夕方に戻る」と答える。
そうする。夕方に市場の撮影をする。以前、漁船は港に帰る時、どんな混雑な所だったのだろうか。
そろそろ夕食の時間で、いつもの居酒屋で最後の食事をする。こんな大変な時期なのに相馬市まできた外国人だから、マスターはごちそうしてくれる。東北の素晴らしい人々!
直してくれた大向杏様に感謝。
---
FUKUSHIMA 2.0
Three years later I had the chance to pay a quick visit to oma City. Here is how it looks now.
Dopo tre anni ho avuto modo di fare una rapida visita a Soma City. Ecco come si presenta.
あと三年、相馬市の現在の状況を見に行きました。